SAT brief 3.21.20
Wuhan flu over reaction?
Welcome to the morning brief. If this email was forwarded to you, be sure to sign up, so you don't miss a beat.
Now, on to today's stories.
WUHAN CORONAVIRUS has dominated public attention since the end of the Democrat's failed impeachment attempt in February.
Following two weeks of edicts from national, state, and local officials, many Americans are more critically parsing information and questioning the severity of the virus and confronting the damage being done to the economy to slow/contain the outbreak.
Too much of the media coverage is doom or gloom. It's what sells. Here's a sample chart from the DMN. Notice we start on red and just get redder. Panic!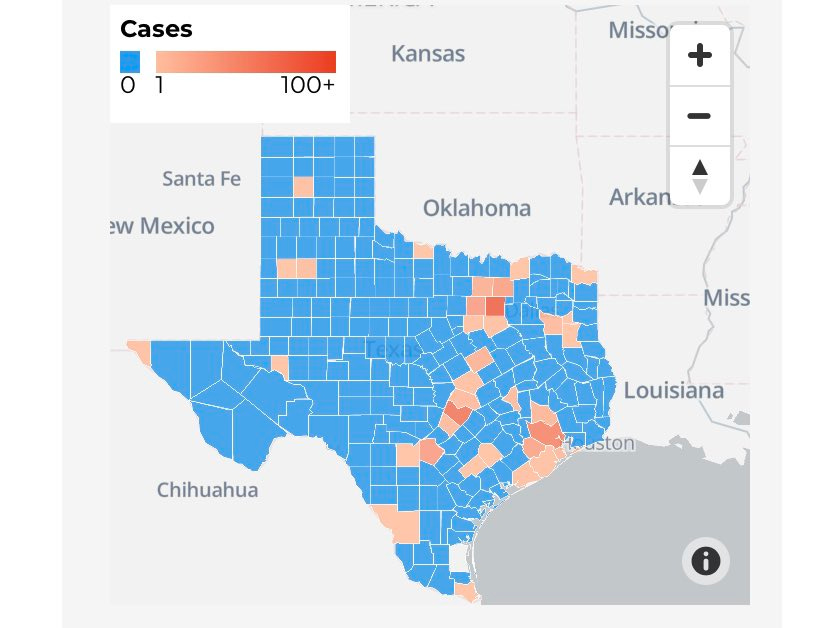 See also: the scary red circles from John Hopkins. Can anyone say manipulation?
These circles don't shrink as the virus subsides. Also, it'd be less panic-inducing and more accurate if the 80%+ of minor cases (i.e., not needing medical attention) were excluded. But, this might defeat the purpose.
What's been done has been done. Moving forward, questions of action must be weighed against emerging data, which suggests the sky is not falling.
RUNOFF ELECTIONS in Texas have been pushed to July. The move was telegraphed early in the day on Friday by Lt. Gov. Dan Patrick on the Mark Davis radio show.
Before the ink was dry on the Governor's later afternoon proclamation, Democrats sued to expand balloting by mail, a predictable move and tasteless power grab during the Wuhan Coronavirus crisis.
Democrats, without a path to victory, must resort to protecting and expanding vote harvesting and illegal voting when possible. They've sued the state multiple times to try and accomplish this task.
Related: Texas upholds sentence for illegal voting
CUSTOMS & BORDER PATROLpublished Friday afternoon that "effective March 21, there will be a temporary restriction on all non-essential travel along US land borders."
Hit the links
Joe Biden spreads hoax about Pandemic
The worst: Child abuse spike linked to Wuhan Flu stress
Majority Approve of Trump's Handling of Wuhan Coronavirus
* $ denotes subscription needed
Thank you for reading
Please feel free to contact me (reply to this email or email me at pushjunction@gmail.com) with questions, comments, suggestions, or tips.