Discover more from Push Junction
Unique overlay of analysis and opinion w/ Texas news
TUE brief 6.23.20
Abbott biffs on Fox News
Welcome to the morning brief. If this email was forwarded to you, be sure to sign up (free or paid), so you don't miss a beat.
Today's stories
GREG ABBOTT had a weird yesterday.
In the early afternoon, he held a limited access press avail, where he announced nothing new about COVID19 in Texas.
He did, however, threaten another hostage-at-home edict (bet he won't) if cases continue to increase. Even though he's unlikely to pull the trigger, threats of shut down will likely do more harm, injecting uncertainty into planning and reopening.
After his hollow flex, Abbott went on Fox News and biffed. When asked for specifics about the virus spread in Texas, Abbott, like a kid called on unexpectedly in class, told the anchor he left his stats at home.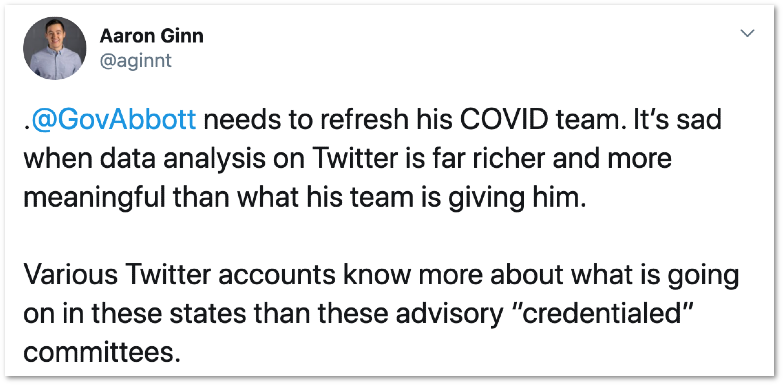 Before that performance, Abbott endorsed in a county-level race against current Representative Mike Lang, who, recent gubernatorial bootlicking aside, had been a marginal critic of Abbott's handling of the coronavirus.
While the case count has been on the rise in Texas, there remains no shortage of hospital beds, ICU admissions appear to be level, and the death rate has not risen. This anomaly might be attributable to any of the following:

JOE BIDEN is not George H.W. Bush or Al Gore, for that matter.
Suggesting that Obama's right-hand man can win because of his proximity to the former president, ignores what made Bush, and (baring Florida) Gore wins possible, a handoff during economic prosperity.
Further, one of the reasons Trump is President today and Biden's Veep play is weaker than suggested, is the way the GOP played the 2012 election. Obama would have very likely lost his reelection bid had Republicans nominated anyone other than Mitt Romney.
Romney was uniquely qualified to lose to Obama on the number one issue of the election, Obamacare. Add to it his robotic gaffe-prone nature and his defeat, despite Roveian dogma, was unavoidable.
While the former VP has a chance to win against Trump, it's not a lock, and it's not comparable to either of the most recent handoff attempts.
Related: Pollster Who Got It Right in 2016: Michigan a Dead Heat
COVID PROTOCOL is killing our elderly and others.
Fran Rhodes, President of True Texas Project, a large and influential grassroots organization based in Tarrant County, has been collecting stories about the impact of coronavirus lockdowns.
The Rhodes Collection is an essential piece of work, a needed juxtaposition to the stories being used by the mainstream media to advocate for authoritarian lockdowns.
Sooner than later, we'll discover who was irritational and heartless during the pandemic. As is often the case, the folks who claim to be most empathetic and caring may be murderous tyrants.
I just lost my husband of almost 50 years last week. When the lockdown of our nursing homes, memory-care facilities, etc. started, patients were no longer allowed visitors.

Family members do a lot to care for these people and when we were shut out, there was much more for the small staff to do. Most of the people living there only live for their loved ones! When no one came (and with dementia, etc.), they can't remember why they are abandoned and alone.
Hit the links
Armed activists vow to use force to defend Texas landmarks
O'Rouke shifts to flipping House
Seabrook bar stays open despite TABC permit suspension
30% of Americans missed their housing payments in June
Tesla seeks fast-track approval of $1.1 billion plant
* $ denotes subscription needed
Tracking
Teacher hiring practices (NEW)
Straus activity (NEW)
Israel annexation of West Bank (NEW)
Coming up
6/29: Run-off early voting begins in Texas
7/15: FEC reports due
7/31: PFS filings due
Thanks for reading
Please feel free to contact me (reply to this email or email me at pushjunction@gmail.com) with questions, comments, suggestions, or tips.